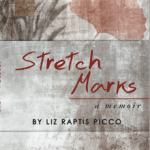 Dear Reader: I'm so pleased to present one of our own writers on the launch of her new book, Stretch Marks. Welcome Liz. I'm so happy to interview you and offer your story our readers. You are such a special person!
Q:  Your book chronicles your nearly 20-year journey to motherhood – one littered with disappointing and painful experiences, repeated slammed-doors, and a litany of failed attempts at conceiving and adopting.  Although you triumph in the end, the reader can't help but feel helpless as they follow you along. I was so intensely struck by the sheer pain, grief, and loss you endured along the way. Can you talk more about your fervent desire and determination to become a mother?
A: Ironically, I hadn't a desire to become a mother until my mid-thirties. After I'd married, then it was like lightening struck and everything else in life paled by comparison. It became a mission. I wanted into the inner circle along with my prolific mother, sisters, cousins, and friends. I'm also stubborn and hardheaded and when I want something, I go after it.
Q: The transparency and rawness of your (range of) emotions, while trying to achieve motherhood, will strike a chord with so many midlife mothers who themselves have hidden and unspoken experiences of defeat. What compelled you to write this book? Why were you so willing to expose yourself in this manner?
A: I wrote the book, thanks to my husband, who hounded me for years to tell my stories and would remind me I was a writer. I'd been so overwhelmed with two toddlers that cobwebs had shrouded my computer. When I finally wrote, read, and [Read More…]