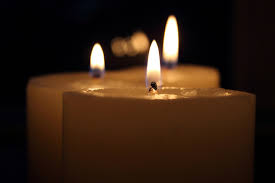 I call the months from October to January, (when the days finally start to lengthen) the " Season of the Dark." My rituals stem from the celebration of light in the dark. I love this special time of year, despite its commercial exploitation, for the palpable experience it provides.
Growing up in a family that was not traditionally religious, yet still connected to the foundation of spirituality, rooted me in seasonal tradition. My father grew up Jewish and my mother a Southern Baptist. Together our family created a compromise based in love.
I have somehow continued to honor ritual around the light with my own family, and am now aware that my daughter, even in her distracted teenage years, appreciates them. I saw how adamantly resistant she was when we contemplated a possible trip away from home during the Holidays. Her excitement during this time has spurred me on to establish new holiday rituals ones that my own New England family would never have embraced.
It wasn't until I moved to the Midwest that I joined the frenzy of decorating the exterior of the house. New Englanders rarely string orange and white lights that look like candy corn all over the front porch, as well as hang spider webs and giant bugs over the railings. [Read More…]