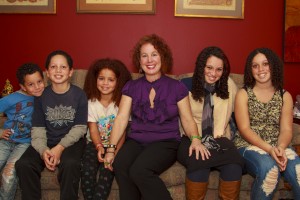 Happy Spring, my friend!  Isn't it truly magnificent how Mother Nature resembles our lives, and reminds us of our own natural transitions?  Like the blossoming ecstasy of new life after a cold and dark existence.
This Spring, in particular, is sensational on many levels.  Why so?  After many years of a cold and dark existence, my family and I are in a thrive-0-mode.  Just like that lovely bush of bursting fragrant Jasmine.
This story began when I had just turned 30 years old.  I was living my dream life in San Francisco. And, then, it hit me hard. "Hey, Wendy!  You didn't come here for a fun and party life.  You took this birth to be of service to others ~ wake up!" I received this exact message from three different mentors during my 30th year -an Astrologer, an Aura Picture photographer, and a Clairvoyant.
With my understanding of the "Law of Attraction," I started praying for a "Spiritual Master" to help me reach my life goal of planetary service.  To my surprise, soon after, in walked a charismatic black man who was starting a new religion to bring love, peace and harmony to our planet.  God had told him that he wanted me to be a part of it.
So how do you say no to God or your calling?  You don't.  You embrace it fully and in full faith.  For me, this full faith translated to blind faith.
We performed a spiritual wedding, with God and the Angels as our witnesses, and with the commitment to serve through our Holy Matrimony.  Sounds romantic, or at least thrilling, yes?
After a ten year marriage of extreme abuse and control, as well as the blessings of five beautiful children, he threw me out on the street (like compost) when I started to challenge his uncontestable authority.  He then took the kids to his sister's house about 1 ½ hours away and told them that I had abandoned them!
Instead of crawling in a hole and feeling badly for myself, I had five souls to save from this Sociopath!  Therefore, with God by my side, I stayed in a friend's home office, found free legal help at a non-profit law firm called Harriet Buhai Center for Family Law, and fought for full custody of my children. I was told, "Hey Wendy, for a Judge to take five kids out of a nice safe home to give them to a homeless mom with no job…the chances are not very good."
This did not stop me or deter me.  I prayed to God, but not with the usual "let me win," because I couldn't conceive of what it would look like to be homeless with my five children.  My prayers were to be of service – that I would do whatever the Source needed me to do.  And if winning custody of the children was what was in store for me, then I would do anything necessary to give them a good life.  I promised this with all of my heart.
Against all odds, and after a very long court hearing, I won full custody!
Though we were free from their dad's tyranny and control, another cold and dark season overtook over us.  We started our homeless journey through a contact I found on Craigslist; I posted a trade for my marketing services in return for shelter.  However, after a few months, this landlord showed his true colors and resembled my children's cruel father in  actions and words.
I was out of my element and forced to live in ways I'd never imagined. With the help of Welfare, I found a homeless shelter for us in a raunchy motel. To get there, I needed to apply through the office located on Skid Row.  During the interview process, the interviewer asked if I ever finished high school.  I took a deep breath, and stated that I had graduated from college.  He then looked directly at me, and in astonishment asked, "What are you doing here with five kids in tow?!"  In truth, no one was more surprised than I with our lives.
After much effort, using a local Internet café, I finally found a new home.  However, while the shelter was safer in many ways, since we did not hear gunshots outside our window there, at least we now had a home. This was our start. My children went to school and made friends.
From there, I reconnected with an old colleague from San Francisco, and started to work again from home.  I finally got found enough work to move us into our present home – a safer place in a much nicer neighborhood!
So, a handful of years later, this Spring is more vibrant for us than ever.  Recently, my children were accepted into a talent agency; my 13-year old daughter was picked as a contestant in a new Nickelodeon game show called Webheads, airing on television this June!
We have also been selected to be photographed in a "ColorOfLove" multi-racial, multi-cultural campaign.  The images capture our love, and we are so blessed to be a part of it. (See below image).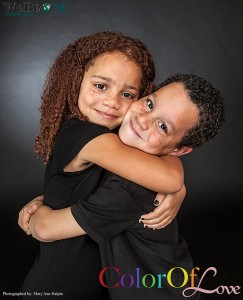 My boys are in basketball leagues, one daughter is in a soccer league, my other daughter loves to dance, and my oldest daughter is writing a novel with me!  Which brings me to the end of what I'll share. Stay tuned.  My eBook of this story is set to come out in September.
Happy Spring to Everyone!
Do you have a  prospering flourishing Spring story?  I would love to hear it and celebrate your new life with you!