Trisha Ladogna and Rachel Ruby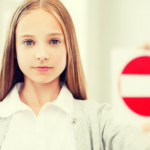 Modern-day Mother's Day celebrations are an opportunity to pay tribute to our mothers and thank them for all their love and support. For stepfamilies, this day of appreciation of mothers and mother-figures can raise a whole lot of something – not all of it always good!
For many reasons, it can be difficult for children, even those with the most amicable of co-parents, to celebrate both their parents and stepparents on Mother's/Father's Day. Mother's Day can highlight the most intractable problems between moms and stepmoms and leave children feeling like they are fighting the 'Battle Royale' of internal battles out in public for their whole world to see.
As a stepmother, being ignored by your stepchildren on Mother's Day – well, it sucks. More so, if you have been in the picture for a long time and you do a lot of parent-like things for your stepchild. Putting yourself in your stepchild's shoes and looking at the situation from their perspective might help take the sting out of being overlooked or ignored on Mother's Day. While considering things from the child's point of view, you might also find that their response towards you on Mother's Day actually has little to do with you as a person or as a stepmom, but more about their own feelings and struggles. [Read More…]