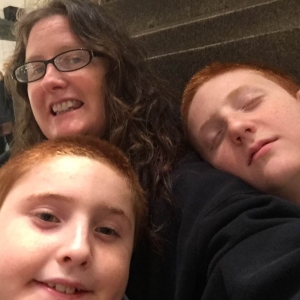 I was raised Catholic. My husband, some sort of Protestant. But, he refused to go to church after someone gave him a hard time about having nothing for the collection plate.
Together, our little family is very atheist. We celebrate the secular Santa and Rudolf Christmas. Presents, gatherings, and needed time together as a family. Celebrations with no religious overtones, but which include a ton of togetherness.
This has left us with some non-traditional traditions. "Hookey Day" is our favorite. We have been doing this since our sons were young. We pick a day in the middle of the week, right after Thanksgiving. We pick a weekday because my oldest son has sensory issues and navigating crowds is hard for him. I let the boys stay out of school.
We head to downtown Philly to see all the light shows; go to the SEPTA Train Museum to see their display; to the top of City Hall just as the sun starts to set; and then to an old friend's pub for dinner.
This year we added ice-skating at the new rink at City Hall. It's a day my kids talk about all year long. When they speak of Hookey Day, they get a happy far away look in their eyes. They start planning the event in mid-July and it is ALWAYS a screaming success. This year, the boys told me that when they grow up, they would take a day off work to participate in Hookey Day every year with me. It's a nice thought……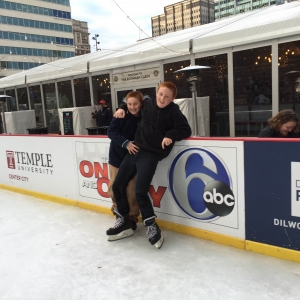 Our other tradition is swimming on Christmas Eve. My kids swim, competitively. Nine months a year, I sit while they go back and forth, back and forth for ten long hours a week. It's a good sport and good for them. On Christmas Eve, the community center at a nearby suburban town holds an open swim in their "leisure pool" on Christmas Eve morning (it includes a two-story indoor water slide and water features).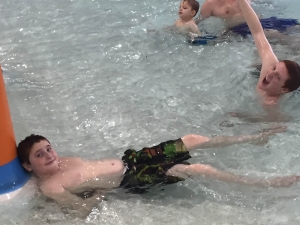 Every year, I do everything I can before Christmas Eve and drop everything to get them to the pool. It is a day I can get in the pool with them, ride the slide, and together we play. My husband usually stays home to get presents wrapped or clean, but I get to take the boys and get crazy silly. We end the session with a soak in the hot tub. Often, on the way home, we buy something we usually wouldn't have – as a treat. They come home happy and calm.
No matter what you celebrate during the winter season, it's all about being with those you love and doing the things that make you happy, even if it includes bathing suits and a day off from school!
Happy Holidays, this season, to you and yours!