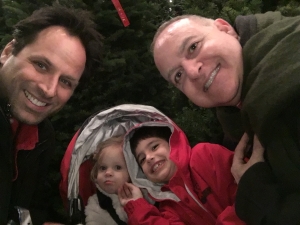 As a child, I never understood why adults were so stressed out about the holidays, and especially, Christmas. After all, it is a time of giving, joy, fun, food, presents and all-round merriment. Isn't is?
I remember times when we didn't see a family member or two, most likely, because of one misunderstanding or another. My own parents were frantically shopping, wrapping and having conversations about "don't forget so and so, did you get them something?" Stressful conversations abounded about the food to be ordered and retrieved from the various shops.
Every year, without fail, my mom would say, "This is the last year I'm making these cookies!" as she tossed another pan in the trash that didn't meet her criteria of taste and consistency. There were the occasional terse words exchanged. And, sometimes there were tears behind closed doors… or even across the table.
I didn't understand: How did anything else matter? It was Christmas!!
Now that I am an adult with children of my own, I understand it all –  much better.
When I was a young adult, I swore I would always celebrate Christmas to the nines. Donations, decorations, family, friends and celebrations. I held this ritual for many years along with my husband who shared my enthusiasm for all things Noel-laden. And, we created our own traditions along the way.
But, since my husband and I have two amazing kids, life is all about our kids now – without question.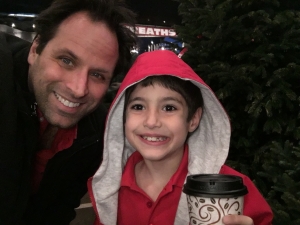 Those early Christmases when my son was a toddler were rife with joy, happiness and gobs of intangible Christmas tinsel, all to please him. We traveled every other year to visit my family so we could share the holidays equally. My son didn't really know what was going on; often we found him lost in a sea of gift wrap and love.
When my son was three, I lost my Dad to cancer,  two years before our daughter was born. Christmas felt like a bit of a chore. I still wanted to give them every joy of the holiday, but it wasn't the same. The tinsel had tarnished a bit.
Nowadays, it's difficult to fly home during Christmas and it's painful without my Dad. The house won't have as many decorations because we just moved (two days before Thanksgiving! What were we thinking!!!?) and haven't yet located them all! I worry if I will have the right gift for friends and family members. I race to get a card done, sometimes opting for a New Year's card, instead.
Unlike past Christmases, filled with annual family reunions and traditional rituals, this Christmas will be spent with incredibly dear friends – with some (family) misunderstandings, there's no hope for a reconciliation  at this point. Sometimes you have to know when to stop fighting when the eventuality has become clear.  Sometimes I cry behind closed doors or across the table because I miss all the people I have lost, especially my Dad.
For my parents, even with all they had to do in their lives, they somehow made Christmas magical for us. On Christmas Eve, dining along side my grandparents, our Italian tradition of "The Feast of the Seven Fishes" never failed to please. (I can still see my Dad working meticulously on his incomparably delicious antipasto. My Mom in the kitchen interminably frying smelts to perfection. "This is the last time I'm making these!" she would say.)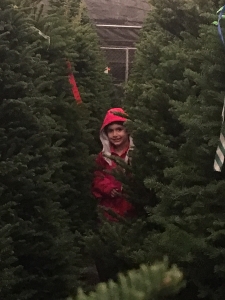 On Christmas morning, groggy from midnight mass, we would run to the tree to admire the treasures that awaited us under our…literally… tinsel burdened artificial greenish plastic-but-never-the-less-magically twinkling tree. Dinner at 2pm, with our bellies still full from chocolates that spilled from our overstuffed stockings; we always had a lasagna with the occasional turkey or ham. I couldn't tell you what was under the tree all those years ago, but I can tell you the Christmas that my parents engineered for us each year is what sparked my desire to celebrate it all the more when I had a family of my own.
Today, it's still Christmas for our kids and for us. I made "Toys for Tots" a priority this year. And, as we do every year, we donated lots of toys. While we may have to wait in line for Santa Claus, we will do so now with a thermos of hot cocoa. Our new house will be filled with love and laughter which is better than a marionette Pinocchio who sings or a staircase filled with holiday Tiggers.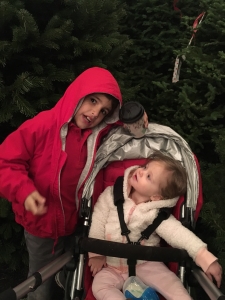 I may not have made cookies (yet) and delivered them to our new neighbors, but I will, as I do every year, make pancakes on Christmas morning and invite anyone who can, to join us. The Christmas card will eventually…hopefully… get done even if it's two weeks before summer with our kids in the pool. I may sweat over gift choices but I know the recipients are grateful for us, and really don't care what's under the colorful shiny wrappings.
More importantly, we may not be with family this year but we will be with people who love us tremendously. We will do for our kids what my parents did for me – create a warm, happy and, most of all, magical day to hopefully spark in them what my childhood Christmases did for me.
Merry Christmas to those who celebrate this festive (and inherently stressful) holiday. And, Happy New Year!