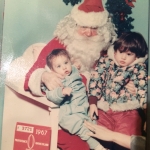 With shopping, cooking, decorating, organizing, scheduling, mailing, and the balancing of familial personalities, holidays are not always as joyful as they are stressful. While the rest of us will be running around like chickens…or turkeys…with our heads cut off, my son will be awaiting the arrival of the red-suited man with the jolly laugh. I remember doing the same as a hopeful young boy.
I can remember the glory of Christmas Eve when I was a kid. The house was filled with green and red anticipation. Unmistakable seasonal aromas hung in the air in and around our cozy kitchen. My mom made pans upon pans of butterballs,date cookies and egg biscuits each in their own sugary powder or glaze. I'm not saying that family drama wasn't going on around us, only that I cannot remember it from my blissfully ignorant rearview mirror.
Our house had a few strands of colorful light sets with the large bulbs and other seasonal ornaments outside. Inside, our then-trendy tinsel laden artificial tree could always be found in our front window for all passerby to witness.
On those Christmas eves, we ate copious amounts of seafood. The Feast of the Seven Fishes is a holiday tradition in many Italian-American homes. It was known as The Vigil (La Vigilia) in Southern Italy. It signifies the abstinence of meat during the celebration of the birth of Jesus before midnight.
It's doubtful that anyone kept count as there were always more than seven fishes swimming around our table. My Mom's always-requested-by-me crisp fried smelts, fresh-from-the-sea spaghetti and clams (red AND white sometimes), steamed ocean clams, slippery clams on the half shell; my Dad's famous baked fish or baccalà, jumbo shrimp cocktail,tender steamed Maine lobster, delicious vinegary snail salad (don't knock it until you've tried it) and stuffed piquant quahogs were some of the plated guests. Some dishes never even made it to the table.
My Grandparents came to our home every Christmas Eve with carefully wrapped pajamas tucked under their arms. We adored my grandparents. However, in all honesty, no one was ever excited to see those rectangular boxes with pajamas inside. Even my Dad, who never looked a gift horse in the mouth, teased my grandmother about her perennial gift choice. Just before midnight, we were allowed to open one gift.  I never chose the pajama box but I wore them with comfort and joy that whole winter and into the next. After our bellies were full of an ocean's bounty and singular gifts had been opened, we headed out into the frosty winter air for Catholic midnight mass. As a child, this was the single most tradition I dreaded. I would eventually curl up next to my Dad and fall asleep as incense wafted into the eternally, and perhaps ironically, overheated church.
Christmas Day we woke as early as could be considered the next day. We ran into our parents' room, coaxing them from a spiked eggnog slumber to come and see if the bearded fellow had delivered as promised. He never disappointed. The tree had overnight given birth to an embarrassment of riches. The stockings were always bursting with sweet treats. My Dad worked hard his whole life to provide for us and at Christmastime we were undoubtedly spoiled. Our parents spoiled with love, above all. We were lucky kids and often reminded of this.
Breakfast always included an amuse-bouche of chocolates and candy from those overly abundant stockings. This was followed promptly by my Mom's family-famous Aunt Jemima pancakes. Afterward, my sister and I would decamp to our rooms with our treasures, returning only for the occasional cookie or piece of chocolate from the now shapeless stockings.
Family and friends would stop by throughout the day for gift exchanges. By two o'clock on Christmas Day, it was as if no fish had existed in the house a scant eighteen hours before. We gorged ourselves on my Dad's antipasto along with my Mom's artichokes and lasagna (all prepared ahead of Christmas Eve). A ham or turkey with trimmings usually accompanied our Italian food shoutout. We finished our early dinner, and by five o'clock, it was all over.  Like preparing for a marathon and getting to the finish line with no fanfare, Christmas was over after so many weeks of anticipation.
I could often be found sitting under the fake tree gazing fixed-stared at the twinkle of lights. I lay there listening to the likes of John Cougar (as he was then known) and thinking that this was the best time of year. People were happy and celebrating all together. People were genuinely nice to each other everywhere you went. All things seemed possible. I hoped it would never end.
With the memory of my Dad now in my heart, we try to create warm and heartfelt Christmases for our children to carry with them. There aren't always seven fishes. However, some traditions like my Dad's fish, Mom's lasagna and those melt in your mouth butterballs are always present. Along the way we have created our own traditions, too. My husband decorates our home like there is a trophy at stake. We always donate toys to our local Children's Hospital. We go from tree lot to tree lot with the kids searching for our perfect tree. A day or two later, we can be found decorating it with friends and family. To entice decorators, there is a generous amount of liquid holiday cheer and Chinese takeout filling our tabletops. And before I head into the kitchen to make my own pancakes on Christmas morning, a few pieces of cookies and candy are eaten by all of us.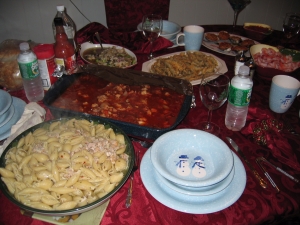 I long ago discovered the two true meanings of Christmas: first, giving of one's self to others in need. And secondly, spending time with family and friends, loving and appreciating each other.
I understand it's difficult to feel comfort when you are elbow to elbow at the mall searching against a clock for the perfect gift for a special person. It's sometimes impossible to feel joy when you are in a years-long grudge with a family member sitting across the table. However, anything is possible at this time of year whether you celebrate Christmas, Hanukkah, Kwanza or family itself. I continue to steal a few minutes each year to look at the sparkly lights in our tree. I am forever grateful for all I have and all I have had. I am mesmerized even now, remembering the past, enjoying the present and looking forward to future Christmases.
I only wish the warmest and happiest of joy to all.