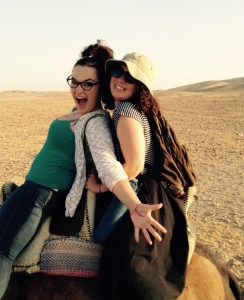 "Oh NO!!!" screeched the single mom with a tribe of five (that's me). "It's summertime again, and my kids will be home bored and hungry for 2 ½ months. We will be driving one another crazy, and my workload is fuller than ever, and, and, and…"
Sound familiar? This is how my summer started, like many before. In my summer article last year, I was asking readers to help give me ideas or suggestions, so that I could make it through! This year, I decided to take the bull by the horns.
What do I mean by that?  I decided to be as pro-active as possible – a lifestyle choice of mine – but this time, I applied it to my tribe's summer home, and reached out to find adventures and activities for all of them.
The major win was for my oldest, Ocean. She spent her first 3 ½ weeks of summer in Israel! Wow! I'm still pinching myself over that win. Months ago, my cousin shared how her daughter went to Israel with an LA Jewish group called Builders of Jewish Education (BJE), and how incredible it was for her. Since they were aware that I am on a very limited budget, I mentioned how great that same experience would be for Ocean, but that I could not possibly afford it.
She replied, "Oh, they have full scholarships available, Wendy."
That was all I needed to hear! After a painless application and interview process, including a financial aid package, Ocean was accepted into the program with a full scholarship! Yes, there was the expense of a passport and things she would need to pack up for the trip, but it was well worth every penny!
Here's a pic of Ocean and her BFF from the Israel trip on a camel in the desert: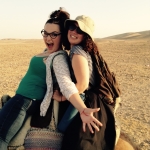 Here's another of Ocean and her group at the Negev desert, after a rigorous hike: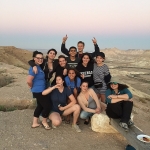 There will be many more to come, as Ocean is putting together a digital photo album. Probably the most remarkable thing about this trip is that the group volunteered 30 hours of feeding the homeless, visiting sick children and the elderly, painting an orphanage, gardening at an organic farm, clearing out a forest fire, and much more.
Then there are my other teens, Mercy and Zak. Through my work in social media, I found an amazing camp for teens called, "Tools For Peace," where they camp out in the mountains of Tehachapi, CA, for one week learning mindfulness techniques, meditation, creating a Mandela with the other campers, horseback riding and eating delicious wholesome healthy meals!
And, through a crowdfunding campaign on Indiegogo (where I originally found them), they have scholarships to offer teens. Are we blessed, or what?! They offered me two scholarships last year, and this year! And, I thank them profusely by promoting them to my 15 K Twitter followers and beyond.
I find the more I reach out, the more blessings return. I call it the Yin Yang of Receiving Giving, and it works just like gravity! It's a Divine law in place for our benefit. Please feel free to read my article on it at: http://wendysuenoah.com/my-published-article-in-whole-person-magazine/
As for locally, I found a weekly hip-hop dance class for my daughter, and invested in a group of classes at a special discounted fee. There's also affordable swimming lessons for my two non-swimmers (but that may take some more influential effort on my part).
To make this summer as special as possible, I've offered each child a field trip or outing to anywhere in the Los Angeles area. This is a bit of an expense, but well worth it for all of us. As of now, we have a day of roller-skating, a visit to a fun exploratory science museum, and a trip to Chinatown.
With all these activity and plans, I must admit that this summer is actually flying by, though August is coming around the corner, with very long and hot days! Maybe I'll get a blow up pool for us to cool off in, or blow up some water balloons and get into some wet fun.
Hope you are enjoying your summer and your priceless life with your precious family!