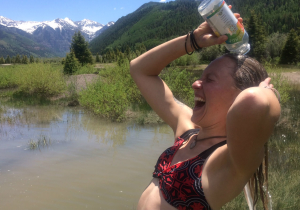 I move through the world as a warrior now – stronger and more courageous than I ever knew possible, but also deeply wounded.
Sometimes, I stop and address my wounds. Other times, I have to keep moving or I know I will die.  A warrior has to be strong, courageous and brave in the face of deep challenge.  A warrior does not know how it's going to play out, but pushes forward in the face of uncertainty.
The warrior hurts but continues to fight in order to get to a better place.  The alternative to not being a warrior is to be consumed by the challenge.
Today, I received a picture from my daughter, Hope, taking a bath in the river, pouring water over her head.  As the frigid water splashed over hair, her head was thrown back, her face shining with exuberant joy.  One can only understand the depth of this joy by seeing the journey that she has faced, the rugged terrain traversed. [Read More…]