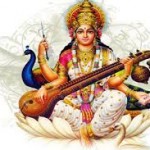 Devi Sri, the flying Balinese
Goddess of Fertility, with her gold crown,
deep green carved wings unfurled
and reaching upwards,
pale white arms wrapped round
orange and red baby bunting.
She is suspended serenely
like a star in the sky of my bedroom,
as I hang in the space between
forsakenness and motherhood.
I worship her, but do not offer her
jasmine, lotus and incense,
though perhaps I should.
I treasure the fortune from my fortune cookie
"Your fondest dream will come true."
I savor my mother's dream of me:
Wearing a red dress, walking,
holding the hand of a little girl.
And then Dana arrives.
Bursting through the gates of impossibility
whooshing through the halls of the unexpected,
from the heavens into my arms.
 Judith Lee Herbert has returned to poetry after a successful career in another field.  She graduated Cum Laude in English Literature from Columbia University.  She has a daughter who is a sophomore in college, and she lives in New York City, with her husband, who writes plays.  She had her daughter when she was in her 40s.