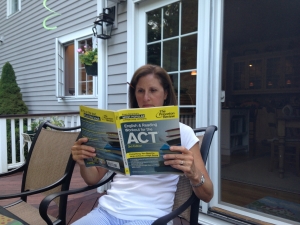 Next year's birthday will be the Big One – 60! While everyone at this age is winding down, I'm revving up. I'm planning on going back to work after being unemployed for…forever. Let's just say that big hair and suits with shoulder pads were in fashion the last time I was steadily employed.
There have been numerous paying jobs and volunteer activities over the last twenty-five years, but nothing that would indicate a career path. My resume looks like a schizophrenic on steroids: Parent Association President, Campaign Assistant for Gubernatorial Election, Associate Editor for Poetry Press, ESL Teacher. Is there a pattern there? No, just jack of all trades, master of none.
Why didn't I work steadily all those years? I had my excuses: Monday through Friday, I had the sole responsibility of caring for the children. In addition to long distance trips, my husband worked in the World Trade Center – two hours round trip from home. After 9/11, he commuted weekly to another state for almost a decade.
My plan to find a full or part-time job was thwarted by the twenty-mile round trip drive to a school in another town. Instead of seeking out a paying job, I filled any free hours with volunteer activities, all very fulfilling at the time. [Read More…]