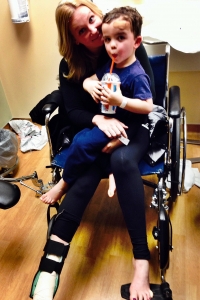 I am the mother of three children; my youngest is three years old. Living with a toddler presents a myriad of challenges on a daily basis.
Here is my helpful list for parents to navigate the uncertain waters of living with a small, human- like piranha.
1 - Leave all cookies and candy on the lower pantry shelf, within their reach. This will reduce trips to the ER when they try to rescue said candy from your hiding spot. Toddlers are like tiny ninjas with zero agility. When weighing out cavities versus stiches, cavities win every time.
2 – Try to outfit your bathroom with the most comfortable furniture you own. You will spend an excessive amount of time watching and/or waiting for poop to come out of their precious bottoms. You may as well be comfortable waiting. If you can fit a small wine fridge in there, it would be an added bonus. [Read More…]