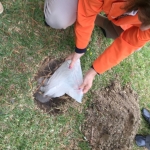 My sister and I were recently able to return my precious mother's ashes to her birthplace.
Honoring her life, we traveled back to her hometown. This little dot on the map, reminiscent of "Mayberry," N.C , was established in the eighteenth century by her ancestors.
Mom died almost four years ago.  At the time of her passing, my sweet daughter was only ten.  Losing her grandmother led to a profound questioning of her own heritage. I will never forget the moment when she spilled her guts out in pain. Grief unleashed the deep sorrow of loss and awareness that she was not of my blood.
In that rare moment of emotional release, crying and in between gasp for air, she asked, "Why?  Why wasn't I wanted?"  And, added the sentence, "You don't know MY PAIN."  [Read More…]