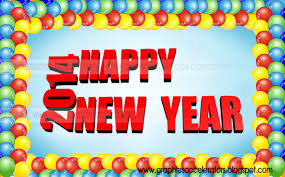 It's a new year!  Hip hip hooray!  Doesn't 2014 sound magical?!
I'm really into new starts of all sorts ~ an opportunity for rebirth, change and new beginnings.  This includes my love for Monday's, which seems unusual to the mainstream world.  However, Monday is the start of a brand new fresh spanking week, for fresh perspectives and new opportunities.  Imagine if we chose to embrace Mondays instead of hate them.  Our lives would change considerably with that one conscious choice!
And, there is always the start of a new day, a fresh start for all.  For me, I take a moment to thank God for my life's breath, my precious tribe, and my cozy home before stepping out of bed.  During the week, I have to wake up my precious sleepy children to get ready for school.  On the weekends, I so enjoy watching them sleep in with such peace and contentment.  Aren't they cute when they sleep?
A start of an entire new year, is like a WOW! opportunity for examination of the year which is coming to a close, and the visioning of the year that we are about to enter.  I used to do my New Year's resolutions when I was a single woman with my singular vision.  Now, I have a family ritual where we spend our New Year's Eve together, with scissors, tape and poster board, as well as magazines we've saved over the year, to create our vision board of the year to come. We're doing so as individuals, yet in a collaborative family gathering.
I get sparkling juice for the kids, and champagne for me. We toast in the New Year by sharing our vision boards and our love.  Our visions range from "Peace on Earth" to my then 5-year old son's "Give Poop a Chance."  We also get personal;  my older daughters placed the following on their boards, "I realized my day is better when I know what I want from it" and "Live your life the way you want it."
As I look back at a vision board I created several years ago, I'm amazed at how much of what I put on this board has come true!  Even my new (well, old, but new to us) minivan looks just like the one I cut out from the magazine!  There is the "Be Your Own Boss Solution" that I placed there, and here I am, working out of my home office and being blessed enough to be there for my tribe instead of in LA traffic or in an office somewhere.
My favorite saying is "live happily ever now."  That is powerful!  Whether it is a new year, new week, new day ~ if we live happily ever now, then our now's will be filled with happiness!
And this is your birthright ~ to be happy, to feel joy, and to share love with your family and the world.
I have found that visioning is a personal process,  although an essential one.  There are many guidelines for creating vision boards. If you'd like guidance, just google it.  However, for me, every year is a fresh new start with a new approach.
My own spiritual growth and understanding of how we all are Manifesters of our own destiny has grown and expanded this year.  I realize how important it is to be exact, or as precise as possible, with our visions and our prayers. Up to now, my family and I have been more general and universal with our vision boards.  This year, I will ask each child to be more specific, and choose three wishes for 2014 – something that they can see, touch, feel and, believe to be true.
That goes for me too!
So please do me this favor: in the comment section below, place your three wishes for 2014, and as you share, believe that they are already here for you.  This will help your own visioning process as you enter 2014. Plus, you will have the entire Mothering in the Middle community here to back you up!
Happy Happy Happy Abundant New Year!!