Share the triumphs, tragedies, losses and loves of Midlife Mothers – women choosing motherhood for the first, last or repeat time over 40 and those standing firmly in place as mothers in mid-life. This is the first anthology written by and for midlife mothers!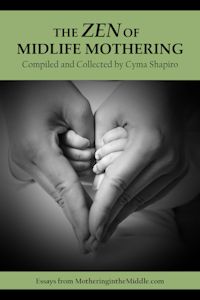 The Zen of Midlife Mothering celebrates the heartbreak and the glory of women choosing motherhood over 40 for the first, repeat, or last time, and of those standing firmly in place as mothers now in mid-life. In this increasingly popular trend of new older parenting, these women do not share a collective consciousness like many of their younger counterparts, but rather a rainbow of disparate and diverse voices representing a vast array of ages, life circumstances and personal perspectives. This "best of" MotheringintheMiddle.com features the depth, breadth and beauty of well-known and established midlife mother-writers, up-and-coming writers, and those just finding their voice(s). We include a handful of fathers as a nod to this increasingly popular trend of "Mr. Moms," and those choosing fatherhood at an age previously enjoyed during retirement.
In the end, the perseverance, conviction, willpower, guidance, determination and a breaking down of all obstacles – financial, spiritual, emotional, physical and psychological – just to become mothers, prevails – all in the name of motherhood, family and love.
_____________________________________________________________
PRESS COVERAGE
 http://marionroach.com/2014/02/writing-for-an-audience/
http://life.paperblog.com/the-zen-of-midlife-mothering-783555/
_____________________________________________________________
CONTRIBUTORS
Introduction by Cyma Shapiro…
Be Yourself by Rachel Snyder…
The Women
Dear Mama: A Letter to My Daughter's Birthmother by Jane Samuel…
Peace During Midlife by Monique Faison Ross…
Second Chance by Janice Eidus…
Older Mom, Growing Older by Barbara Herel…
Self-Invention – The Bond Among Women of All Generations by Suzanne Braun Levine…
The Things We Do For Love by Joely Johnson Mork…
Are You a Polar Bear Mom? by Wendy Sue Noah…
Menopause by Maggie Lamond Simone…
Ripe by Valerie Gillies…
Mom-on-Demand by Lori Pelikan Strobel…
When Shift Happens At Midlife by Lisa Garon Froman…
Dating as a New and Single Mother by Kristi Rodstrom…
On Failure, Forgiveness and Cutting Ourselves Some Slack by Peg O'Neill, M.D….
Thru the Eyes of a Midlife Mother by Shana Sureck…
Milky Magic: Thoughts on Breastfeeding from a Geriatric Mom by Ellie Stoneley…
A Child of My Own by Michelle Eisler…
Giving Birth to Life and Death by Amy Wright Glenn…
All Done by Andrea Hopkins…
The Wilderness of Motherhood by Lora Freeman Williams…
An Introverted Mother by Denise Naus…
Bat Mitzvah Revisited by Randi Hoffman…
My Journey into Midlife Motherhood by Karen C. Hug-Nagy…
The Chicken Back Syndrome by Ann Sheybani…
Down Syndrome Awareness – Can We Have Some Dignity to Go With That? by Laura Sussely-Pope…
Music to My Ears by Tina Traster…
The Men
Should We Take the Only Thing They Have Left? by John Simmons…
How I Overcame My Fear of Being Mistaken for Grandpa by Len Filppu…
I Do Not Own My Life Anymore by Marc Parsont…
My Newest Career: Mr. Mom by Doug Crawford…
Questions by Austin Wimberly…
Being Elegant by Casey Kochmer…
The Myths and Experts
Reinventing Myself and My Mothering After 40 by Kathy Caprino…
Soul Contracts…Do Our Children Choose Us? by Joanna Beth Young…
The Delicate Balance of Therapeutic Parenting by Julie Beem…
Eating to Optimize Fertility and Good Health by Cindy Bailey…
In Praise of Older Mothers by Rabbi Stephen Fuchs…
Later Moms: Rocking the Cradle and the World by Elizabeth Gregory…
The Sandwich Generation and Their Parents' Tarnished Golden Years by R. Lichtman and P. Goldberg…
Acupuncture for Infertility: Find Out Why It Works! by Drew Nesbitt R. TCMP…
Don't Whisper, Don't Lie – It's Not a Secret Anymore by Adam Pertman…
Losses and Gifts in Midlife by Lewis Richmond…
Why Have Kids? by Susan Newman, Ph.D….
Some Myths and Realities of Open Adoption by Deborah Siegel, Ph.D., LICSW…
My Debunking of Myths Regarding Teens in Foster Care by Joanie Siegel…
The Myths and Realities of Surrogacy by Karen Synesiou and Fay Johnson…
Infertility Myths by Alice Domar, Ph.D.…
8 Adoption Myths…
The Writer/Creator
Midlife Mothering: Ain't All It's Cracked Up to Be? by Cyma Shapiro…
The Love and Wounds of Adopting, Not Birthing by Cyma Shapiro…
Regarding Having/Getting/Adopting Children: When is Being Done, Done? by Cyma Shapiro…
The Power of One by Cyma Shapiro…
M is for Midlife, Menopause and Mommyhood by Cyma Shapiro…
__________________________________________________________
REVIEWS
"So many times books focus on one point of view and then spend their words trying to justify their existence. The Zen of Midlife Mothering lets the reader view midlife mothering from every possible angle. Whether the reader agrees with any given contributor or not, "Zen" will give them a totally new perspective on the many reasons people trade in early retirements for opportunities to parent."  – John Simmons, author of To Sing Frogs
———————————————-
"I read into the night savoring the words of these women and men, marveling at the myriad of life's possibilities, having to pause…breathe in…and slowly, fully exhale before beginning the next intimate sharing. These essays are not a typical chapter page turner. The Zen of Midlife Mothering provide the reader with the experiences of loving women and men who divulge life's challenges, teachings, and lessons offering wisdom, guidance and hope for a fulfilling and purposeful life.
From every socio-economic class, race, religion, creed and family model we are given the opportunity to read about the diversity of our journeys. The compositions reveal stories of love, loss of children, perseverance and determination. They speak of the realisms of foster parenting, surrogacy, adoption, infertility and more. In The Zen of Midlife Mothering, so much strength is expressed as is the willpower not to turn away from precious dreams needing to be fulfilled.
I truly believe this will become a book known for ALL people because the engaging writing styles makes the book very assessable, even to those who are not mothers or fathers with children. The essays are sufficiently thought provoking and stimulating. I cannot wait to sit with Cyma Shapiro's collection of wondrous essays and read on." – Faith Feurst
——————————————–
"As a midlife mother myself, it was wonderful to read so many stories I could identify with. I found myself saying, "Oh, someone said the same thing to me, too!" on many occasions. The essays in this book touch on such a wide range of topics and feelings: from biblical perspectives, to special needs, to father's views, and medical advice – there truly is something for everyone here!
Whether you are a midlife mom like me – I am 55, and my beautiful son is 10 – or considering motherhood over 40, this is a great book and resource. You will find real people telling you their stories and experiences – it's a wonderful read!" – Michelle Meyer
"It's about time there was a book like this — the group of women becoming mothers later in life is growing, and this anthology really shows the spectrum of mothering (parenting) and mothers (or fathers) in this demographic. I think this book is a statement about the love all women have for their children, no matter how they came together, and a testament to the variety of forms such love can take.I look forward to reading more about midlife motherhood, in books and online." – Joely Johnson Mork
-==================================
"We live in an age of incessant story telling with reality television and nonstop social media. Yet, somehow authentic stories remain missing. The Zen of Midlife Mothering fills this void with powerful stories and tales of mothering in unconventional ways and/or at unconventional times. Women from an assortment of backgrounds speak. Moving stories. I can't forgot the Latina woman who faced infertility even though infertility is not supposed to be a problem for Latin women. We need more honest tales in honest voices like found in Midlife Mothering." – Rosie Moosnick
__________________________________________________________________________________