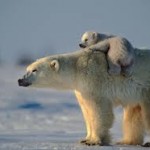 Are you a Polar Bear type of mom ~ do you really know what that means as a mothering analogy?
Well, I didn't for a while, at least fully.
A few years back, my close friend, Sharon, compared me to a Polar bear mom whose main focus was to protect her cubs.  It sounded complimentary, and it was something I held in my heart for strength, but not something I fully grasped.
Just a little background for you to help put things into perspective before I share my Oprah "Aha!" moment with you.
Before marriage, I did not have motherhood on my "To Do" list.  Sounds strange to say now, as a single mom of a tribe of five children, but it is true.
Then I married my now ex-husband, and we reproduced five children within 10 years.  On our spiritual path, we believed that if God was to bless us with a child, that we were going to welcome it – hence no birth control.
With each child, I felt more and more blessed.  In the past, I had believed that my career, traveling, partying, etc. was what it was all about.  Now I knew true joy- the joy of motherhood.
Fast forward.  Right around our 10th anniversary, I began questioning his incontestable control and abuse. He threw me out on the street (with a temporary restraining order) and took our children to live at his sister's house.
Instead of digging a hole to bury myself in, or returning to my hometown of Boston, I found shelter at a friend's home and found free legal help.  Against all odds, I won full custody of my children!
It was at this time, when we were all homeless together in the harsh reality of Los Angeles, that my friend, Sharon, associated me with a Polar Bear, as a mother who would do anything for her cubs.
I asked her with all earnestness, "Do you really think I can manage all of this?"
Sharon's reply, "Of course you can, Wendy. You are like a polar bear, and you will do whatever you need to to protect your cubs."
Fast forward again.
It is a Sunday, years later. My children and I are looking at one another with the restless thought, "What to do?"
So I gather my tribe for an IMAX movie at the Science Center. We saw the tremendous movie "To the Arctic." It was here that I finally put two and two together!
The movie focused on the Arctic and what life is like for polar bears.  Polar bears are such a remarkable majestic species. To see them dance and hug under the iceberg cold waters was truly incredible!
The movie focused on a mother Polar Bear who had two nursing cubs, but could not find any food.  The commentator described how unusual this is, since a mother Polar Bear needs to nourish herself in order to nurse more than one cub; in this case, her love filled up her milk for them.
Against the odds, and as they continued on their journey, she fed her cubs and thwarted off the advances of nature and other adult bears.
And then it happened.
In an instant, and at a pivotal point in the movie, this bear became both the star and the conqueror.  In the face of an advancing male polar bear, she turned around, faced it, and roared with all her might.
RRRROOOOOAAAARRRRR!!!  
The male bear literally stopped dead in his tracks, and eventually swam away.  Her response was clear: "If you want to eat my cubs, you need to go through me."
It was then that I finally got it ~ yes!  There was nothing in Heaven or Earth that would keep me from protecting my babies. I am, indeed, a Polar Bear Mom, and proud of it!
Do you resonate with this feeling, as well?  Then we are Polar Bear moms together! Let me know what type of mother you are!
And so it is…
Wendy Sue Noah is 46 years young, and a single mom of five children ranging in age from 6 – 14 years.  She is blessed to have a home office with several clients, working in the Social Media world. Her personal slogan is "Social Media with a Conscience."  The flexibility of a home office allows her to be the supportive and loving mom she chooses to be, which includes retrieving her kids from the nurse's office when sick, attending her children's award ceremonies, or volunteering to speak at their school's "Career Day."  As for cooking and cleaning, she gets by OK but prays for enough money for a nanny helper someday!  Wendy can be found at: http://xeeme.com/wendysuenoah