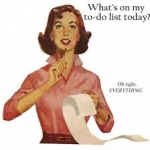 The urban legend of motherhood contends that if you don't embarrass your child, you're not doing your job.
I've always been a bit of an overachiever and, never more so than during my daughter's tween/teen years.  I pursued with a passion, one I usually reserve for a crisp sauvignon blanc or a deep tissue massage, perfect performance on this compass of parental competence.
Yes, I did it; I did it all- all the miserable, misguided maternal behavior sure to elicit a roll of the eyes, a highly offended yelp of "EWEE," and the ultimate,"Mom, people heard you say  that!"I sang.  My daughter has never been a fan of my singing.  When she was a toddler, I sang her to sleep every night (or so I thought).  My repertoire gave a nod to her multi-ethnic heritage – "When Irish Eyes are Smiling," "Edelweiss," and of course, "Volare" – until one evening, when she pressed her chubby, two year-old fingers against my lips, and pleaded, "No Mama, No."
Undeterred, I sang every chance I got – at home, at church and, most grievously, in the car with her  middle–school friends in the backseat.  I am not sure what bothered her the most – my ever so slightly off-key mezzo soprano or the fact I was so blissfully "uncool."  I am not sure when the stifled snickers began – when I tuned into WJMJ (W Jesus Mary and Joseph, our local Catholic easy-listening station), when I sang along with Josh Groban, or when, grooving on Josh, I started to snap my fingers.  I am sure, since all mothers have eyes in the back of their head, that my daughter rolled her eyes.
I attended every school event.  The term "helicopter parent" was coined in my town.  Mothers trampled over one another to land the highly coveted roles: room mother, cookie mom, field trip chaperone.  Warding off investigation by the Department of Children and Family Services for neglect, these Moms were on hand for every basketball game, choral concert, and consummately cut-throat math club competition.
And so, my daughter could not complain about my perfect attendance record, but opted instead to critique my not-so perfect appearance. When I walked through the school doors in my twin sweater set and pencil skirt, my daughter wished for a Mom who could/would rock a enim mini and spaghetti strap tank from Forever 21.  Her comment, "EWEE, Talbots!"
I asked "that"question.  There are some questions that parents should never ask because they already full-well know the answer.   The mere posing of it brings unmitigated shame and potential social exile to a child.  I couldn't stop myself.
"Will the Mom be home to chaperone the party?"
"Of course, Mom!"
Of course, when I dropped my daughter off, the aforementioned parent was always in the shower otherwise she'd be so delighted to come and say hello. I assumed she was so busy showering that she didn't have a chance to pick up the stash of red Solo cups that littered her front lawn.
I moved to a more provocative question in the pre- college years.  On every campus tour, I asked, "Is this a co-ed dorm?"  As the smiling admissions rep, failing to recognize the rhetorical nature of my inquiry, launched into a well-practiced litany about independent living, the value of diversity, and finding one's self, my daughter launched into her own well-practiced litany – eye roll, EWEE and worst of all, "Mom, people heard you ask that."
Now, as my daughter approaches her mid-twenties, I've begun to wonder if I am falling down on the job. I no longer seem to be a constant source of embarrassment.  Just last week she asked to borrow my Talbot's credit card because there are "some nice things there."  (Eye roll, this time from me.)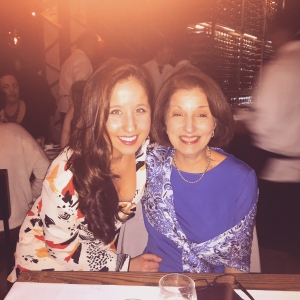 Although she still frowns upon my singing, my choice of music is no longer humiliating. In fact, she recommended a few Frank Sinatra songs to me because he is "just the best," and told me about the band she wants to see in concert: Fleetwood Mac.
So, is yesterday gone?  Not all the way.  I continue to serve in a motherly function.  In a trendy NYC restaurant, I rummaged through my purse to look for some necessary item: tissue, wallet,  cell phone and hand sanitizer only to be stopped short,  "Mom, you look like a tourist. People can see you doing that!"
(Eye roll, again from me.)