Nine years ago, while sitting in the Moscow Marriott at age 46 with my newly adopted year-old daughter, I realized that I was going to be old when she graduated from college. The "old" was nearly my grandmother's age – old!  This was the very first time I'd ever felt my mortality and had ever even stopped to consider my chronological age. I had long ignored the biological clock theory thinking that it was mere hyperbole.
Although it came as a shock to me that I had not previously become pregnant, on that cold winter's night nearly 9,000 miles from home, I finally felt my life begin. My age was a nagging problem, but at that moment I was filled with pride, joy and the fullness of starting a new family. I could see nothing but rosy times. Or so I thought. Little did I know that I had just joined a new club – moms over 40 – with no dues-paying members and no glue to bind them.  Little did I know that in reality, I was one of them. (Two years later, we adopted our son).
Since then, I've made it my mission to expose the world to the group I call "Midlife Mothers" – that is, women choosing motherhood over 40. I have been featured on NPR and written for numerous online sites including Psychology Today and the Huffington Post. MLM entities MotheringintheMiddle.com and NURTURE: Stories of New Midlife Mothers  (the only art gallery show dedicated to presenting women choosing motherhood over 40; now traveling North America) are intended to present a voice, face and forum.
Together with other midlife mother/women bloggers, we are helping redefine women in mid-life, dispel myths about who we are and provide role models to younger women making truthful and fulfilling life choices at whatever age they choose. Our time has come – the result of breakthroughs in medical technologies, a relaxation of family models and greater socio-economic freedoms for women.
Please read more about these amazing other midlife mother-bloggers – in honor of Mother's Day month!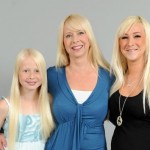 Jan Andersen is a British freelance writer and author and the owner of the website Mothers Over 40. Since 2002, Jan has been offering support and encouragement to midlife parents and anyone planning a baby past the age of 40. Her site provides informative articles, books, shopping, a penpals' facility and links to invaluable fertility resources. Jan gave birth to her fourth child in 1999 at the age of 40 and felt it was important to focus on the countless positive aspects of midlife pregnancy and parenting, hence the creation of Mothers Over 40. http://www.mothersover40.com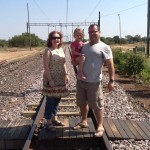 Karen Du Toit became a mother again after she remarried her "wonderful partner."  "We had a new baby in our midst when I was over 40, and my first-born was 15. Four years later, we are juggling a preschooler and a student at university, while doing the work-life rat-race in Johannesburg, South Africa, with its wonderful challenges. I started blogging because I knew how quickly they grow up, and I wanted to catch some of our Little Missy's cuteness! I am also meeting a wonderful community of bloggers, and get a wealth of knowledge at my fingertips when I ask for it! Parenting has changed considerably in 15 years, and I don't know how we did it without the Internet." Karen can be found at – http://momagain40.blogspot.com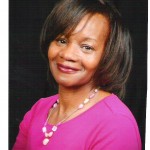 For Cynthia Wilson James, her blogsite, "First Time Mom Over 40" is an extension/outreach of her website InSeason Mom. "Initially, I started the blog to ease the fear of women over 35 who were afraid of having a baby because they viewed the popular misconceptions as truth; misconceptions such as you can't get pregnant or have a healthy baby in your late 30s or 40s. Now instead of just sharing my story of marrying for the first time at 40, conceiving naturally and giving birth at age 42 and 44 to two healthy daughters, I share the success stories of other women who became moms after 35 and 40 through conception or adoption.  What I hope to accomplish through my blog is rooted in my Christian belief that regardless of what the "experts" say, there is a Power greater than circumstances. There is Hope. There is God." She can be found @ http://inseasonmomreflections.blogspot.com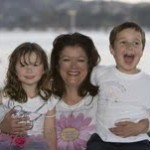 Angel LaLiberte gave birth to her two children at 41 and 44, after conceiving naturally. Raising young children in midlife, she soon realized how little support or recognition there was for the real needs of the rising number of women having children after 40. Living in California, USA, in 2009, she launched http://www.AChildAfter40.com(originally FlowerPowerMom.com) to advocate for and support mothers over 40 around the world. Since then, the message of AChildAfter40.com has been featured on CNN, PBS and other media in North America, the UK, Europe, China and Australia. AChildAfter40.com provides online forums, expert information, and real mom stories on issues from fertility to parenting young children after 40.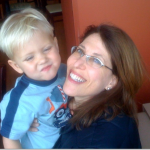 After becoming a first-time mother at 46, Carolyn Schweitzer – www.mommyinthemiddle.com – realized that forty-something moms share some common challenges. "While wondering how we'll fit in with the younger moms, we also struggle to adjust to a new role midway through life, and we worry about our own aging issues. Most of us are caring for elderly parents at the same time we're raising young children. I wanted to create space where these issues can be explored and where women can find others who share the same challenges. I also strive to help and inspire women who are trying to conceive or adopt at an "advanced maternal age," as the number of women in this category continues to grow."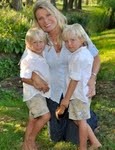 Sharon Simons had a dream to become a mother which she was determined to follow. Her path was difficult but ultimately successful. Born in New Jersey and living in Delaware, she is married to her soul mate, Rick, and is the very proud Mom at Last to her two sons, Dylan and Hunter.  Sharon struggled to become a Mom, dealing with the uncertain world of infertility including three In Vitro Fertilizations, Tubal Pregnancy, and the Loss of a Pregnancy with twin boys at 19 weeks. That loss only made her more determined to become a Mom. Thankfully, that dream became a reality due to International Adoption.  Sharon, 47, is now an advocate for Adoption and Motherhood and has created multiple products to help others through the journey towards becoming a Mom at Last (TheAdoptionApp for iTunes & Android, and the Mommy's Sippy Cup (TM).)  In addition, Sharon has chronicled her journey toward becoming a Mom at Last in the newly published book Mom at Last: How I Never Gave Up on Becoming a Mother. Her sons are now age 6 and 7.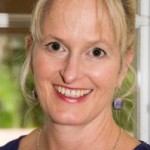 Midage Mom is for women who had kids late and are parenting in midlife rather than celebrating the empty nest on a beach in Bali. It's for women squeezing in their midlife revelations before the school pickup. It's for mothers riding the hormonal roller coaster while competing with their teen for bathroom time. In short, it's about thriving and surviving a new life stage where midlife meets motherhood. Blogger Jennifer Bingham Hull is the award-winning author of Beyond One: Growing a Family and Getting a Life. She had her first daughter at 40 and second at 42 and is now parenting a teen and tween in her fifties. Jennifer can be found at: http://www.MidAgeMom.com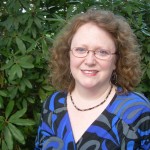 Denise Mooney is a mother of three who writes about the trials and triumphs of parenting on her blog, www.MyMidLifeMotherhood.com.  As an active mom of a tween and a teen, Denise found herself expecting baby number three at forty years old.  As a result, My Mid-Life Motherhood was born, in addition to her latest bundle of joy!  Now, several years later, Denise writes about various toddler and teen topics.  There is never a dull moment at My Mid-Life Motherhood as Denise shares about a multitude of mothering – from potty training to permits, bottles to basketballs, nursery school to college tours.  Denise resides in suburban Philadelphia with her husband of 21 years and their three children ages, 4, 15 & 17.