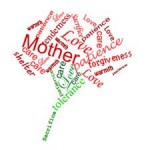 "Look at you – you're just like your mother."
Weren't those dreaded words at one point in my life?  Didn't I work all these years to not be like her, to identify her faults and weaknesses and to do everything humanly possible to avoid them?
I read a comic strip once in which a woman was lamenting the fact that she'd turned into her mother.  All the behaviors she hated, she'd adopted.  And I heard once that if a man wants to know what his wife will be like in 30 years, he should look at her mother.  It was meant to be mean.
Why now, then, am I desperately wishing for that one profound gift that eludes me – to be like my mom?  I think it's because I'm a mother now myself, and I'm beginning to wonder if I could ever hope to be the mother she has been to me. Continue reading →