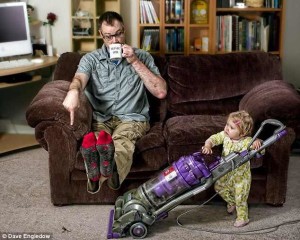 In 2010, after the birth of his daughter, Alice Bee, (midlife father and) photographer Dave Engledow set out to capture her in a variety of humorous situations. Placing only the two of them in the photos, he created a series of vignettes which allowed him to express his (many varied) emotions at being a first-time dad, while documenting the growth of his daughter.  He hoped this collection would be his gift to her, as an adult.
"When Alice was about eight weeks old," he told Shine, "I wanted to portray what I felt like at the time: a clueless, sleep-deprived dad." He posted that image on facebook and received such a positive response that he decided to continue the work.  His shots – reminiscent of life in the 1950s/60s – combine multiples images enhanced by digital retouching. The result is ridiculously entertaining photographs – everyday domestic scenes which appear to show "EveryMan" and his daughter/child to every woman/mother!
Nearly two years later, his calendars and photos have been seen around the world; he has received countless amounts of publicity (including the Today Show and Huffington Post). And, if he chooses to stay the course, he's well on his way to being a lasting staple on the social media scene. He intends to continue as long as he can. However, Dave has also stated that he "doesn't want to be one of those fathers who pushes my kid to do something she doesn't want to."
While the focus of each photo is on Alice, it is actually Dave, a.k.a. "EveryMan" who captures our attention.  "The character I portray in this series is intended to be a parody of the father I hope I never become – distracted, self-absorbed, neglectful, clueless or even occasionally overbearing. I've always used humor as a way to deal with my personal fear and neuroses, and in many ways, these images are often an attempt to do just that – to illustrate, humorously, the fears that I, and, as I've learned, many other new fathers have about fatherhood."
Together with his wife, Jen, Dave painstakingly sets up each shot which he estimates take him between two minutes and six hours (depending upon his daughter's interest and attention-span). And, while Jen is away (she's a lieutenant colonel in the Army), his friends and parents work alongside him creating the images on the Internet. (Note: Jen is back home now).
Q: Good Day, Dave! I'm so pleased to have made your acquaintance and interview you. (I LOVE your work!) You are a busy man. Working as a "single dad" while your wife is intermittently deployed, must keep your hands full!
A: Yes, the year that Jen was deployed was very taxing and gave me a much stronger appreciation for the challenges single parents face every day. I was lucky enough to have a very strong support network of friends, daycare, and an amazing sitter so things definitely could have been worse.  And today's video chat technology also meant that Alice Bee got to "see" her mom almost every day, which also really helped a lot.
Q: We note that the mainstay of every shot is a clearly positioned coffee mug which reads, "World's Best Father." We take that to be both an ironic nod to your parenthood and a tip to "EveryMan."  Was this intentional?
A: Yes, when I came up with the idea for the very shot in this series, I knew that I wanted to depict myself as the sleep-deprived, clueless new father (because I was!) distractedly using the baby's milk for his own coffee.  As I was planning the shot, I thought it would be funnier if the mug had some sort of ironic superlative. I had no idea at the time that the mug would end up being a mainstay of every shot.
Q: What has been your proudest joy as a father?
A: Honestly, Alice Bee does something new and amazing every single day that fills my heart with such pride and joy that it would be impossible to pick just one.  Whenever I heard parents saying stuff like this, I always just assumed it was hyperbole, but now that I'm a parent myself, I totally get it.  She really does make me proud every single day.
Q: What has been your hardest struggle and/or your most surprising experience?
A: The hardest struggle has been trying (and often failing) to remain patient with the two-year psyche.  From talking with other parents, I realize that I'm not alone in this—young children have the ability to push buttons and trigger emotions that we didn't even know existed inside us.  The most surprising experience for me has been how, despite the bouts of unbridled emotion Alice Bee can trigger, I totally love being a father.  I don't know if I was really expecting that.
Q: You create approximately 3-4 photos/month. Over time, that may become a most pleasurable habit and a staple in your lives. What will you do if/when your daughter says that she does not wish to participate in this any longer?
A: Seduce Jen and make another model? 

Seriously, though, I've always said that I hope to continue this throughout Alice Bee's childhood and I really hope that she becomes a co-conspirator at some point, helping me come up with new ideas.  Of course, if that doesn't happen and she decides she doesn't want to continue, I won't force her to do it.  Photography has always been a passion for me, and there are plenty of other project ideas I have brewing once this one has run its course.
Q: I'm assuming by the amount of praise and recognition you've garnered that you must feel affirmed with your feelings, and recognize that you merely reflect the normal fears and challenges of parents everywhere. Has the project changed you in any way? Are you more confident now as a parent?
A: I don't think the project has changed at all how I feel about being a parent—I'm still worried about the future and every day brings a situation I've never encountered or new fear that I'm going to completely mess something up.  Knowing that other parents have these same fears and challenges is gratifying on some level, but it hasn't made me any more confident about my own parenting skills.  If anything, all of the attention has made me even more worried that I'm going to screw up and that now the whole world will be there to witness my failure as a parent.
Q: By our calculation, you waited a while to become a parent. Do you feel that this heightened your fears?  Has waiting for parenthood made you a better parent?
A: Waiting was definitely the right choice for me—heck, I'm 42 years old and I still think that I'm not old enough to be a parent yet.
Q: Looking into the future, what are your plans for this project (i.e. yearly calendars, a book, etc. )?
A: Currently, all of my focus is on our upcoming book Confessions of the World's Best Father, which will be published by Gotham Books (Penguin) in June of 2014.  The book will contain approximately 80 images from the series, and accompanying "journal" entries.  Beyond that, we'll just have to wait and see.
Q: Finally, what words of wisdom would you like to leave our midlife parents/readers with today?
A: Worrying is natural and appropriate, but don't forget to have fun along the way. Oh yeah, and take lots of pictures.
https://www.facebook.com/EngledowArtPhotography