val·en·tine [val-uhn-tahyn] noun
1. A card or message sent by one person to another on Valentine's Day, sometimes anonymously.
2. A sweetheart chosen or greeted on this day.
3. A written or other artistic work expressing  affection for something or someone:  His photographic essay is a valentine to Paris.
Origins: mid 15th c., "sweetheart chosen on St. Valentine's Day," from L.L. Valentinus, the name of two early Italian saints (from L. valentia "strength, capacity"). Choosing a sweetheart on this day originated in the 14th c. as a custom in English and French court circles.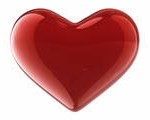 "For this was on seynt Volantynys day Whan euery bryd cometh there to chese his make." Chaucer, "Parlement of Foules," c.1381
It is assumed that the date reflected the informal first day of spring in whatever Fr. region invented the custom (many surviving medieval calendars note the start of spring on the 7th or 22nd of February).  The custom of sending special cards or letters on this date flourished in England c.1840-1870, declined around the turn of the 20th century, and was revived again in the 1920s.
Although love has a history as old as creation, it wasn't until the 18th century when "Valentine's Day," as we now know it, originated.
In 1797, a British publisher issued The Young Man's Valentine Writer, which contained scores of suggested sentimental verses for the young lover unable to compose his own. Printers had already begun producing a limited number of cards with verses and sketches, called "mechanical valentines," and a reduction in postal rates ushered in the less personal but easier practice of mailing cards called "valentines."
Paper valentines became so popular in England in the early 19th century that they were assembled in factories. Fancy valentines were made with real lace and ribbons, with paper lace introduced in the mid-19th century.  In 1849, a writer in Graham's American Monthly observed, "Saint Valentine's Day… is becoming, nay it has become, a national holyday." In the United States, the first mass-produced valentines of embossed paper lace were produced and sold shortly after 1847 by Esther Howland of Worcester, MA. Her father operated a large book and stationery store; Howland took her inspiration from an English valentine she had received from a business associate of her father. Intrigued with the idea of making similar valentines, Howland began her business by importing paper lace and floral decorations from England.
Since the 19th century, handwritten notes have given way to mass-produced greeting cards. In the second half of the 20th century, the practice of exchanging cards was extended to all manner of gifts including roses and chocolatespacked in a red satin, heart-shaped box. In the 1980s, the diamond industry began to promote Valentine's Day as an occasion for giving jewelry, as well. Today, the U.S. Greeting Card Association estimates that approximately 190 million valentines are sent each year.  Half of those valentines are given to family members other than a husband or wife; usually to children. When you include the valentine-exchange cards made in school activities the figure goes up to one billion, and teachers become the people receiving the most valentines.
The rise of Internet at the turn of the millennium is also creating new social traditions. Every year, millions of people use digital means to create and send Valentine's Day greeting messages such as e-cards, love coupons, or printable greeting cards.  An estimated 15 million e-valentines were sent in 2010.